About the Foundation
The Kappa Foundation of Charlotte (the "Foundation") was incorporated in October 1999 and received its 501(c)(3) status in June 2000. The Foundation primarily serves as the philanthropic and charitable arm of the Charlotte, North Carolina, alumni chapter of Kappa Alpha Psi Fraternity Incorporated (the "Fraternity"). The Foundation's vision is simple and is the fundamental driver of the Foundation's activities.
Fostering exceptional achievement by young men in our community through diligent role modeling, mentoring, structured involvement and open access to economic scholarship and resources.
To execute this vision, the Foundation adopted and, in many respects, rejuvenated the Fraternity's long-standing youth mentoring program, simply titled "Guide Right". There are two primary initiatives that are incorporated in Guide Right, with the first being Kappa League and the second being the Beautillion Militaire.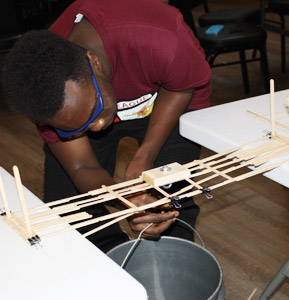 Kappa League is rooted in the spirit of assisting young men who are in need of counsel, advice and positive role models to aid in the navigation of their journey from childhood to manhood, particularly from a personal and scholastic development perspective. This program solicits teenagers of the underserved communities in the Charlotte-Mecklenburg area and exposes them to professional men with whom they can develop relationships forged from the common interest of success and life-long achievement. Meetings and activities are conducted throughout the year to encourage these teenagers to remain engaged with the adult volunteers. While enjoyable, these activities serve as building blocks to prepare the young men for participation in the Beautillion Militaire program, founded by the Charlotte alumni chapter of the Fraternity and adopted as a nationally recognized Guide Right program of Kappa Alpha Psi Fraternity Incorporated.
The Beautillion Militaire's primary objective is to facilitate scholarship to students in Charlotte, Mecklenburg County, North Carolina area high schools pursuing higher learning at four-year or two-year institutions as well as students currently enrolled in four-year institutions of learning in the Charlotte, Mecklenburg County area. This program has operated successfully for thirty-two (32) years, providing over a quarter of a million dollars in scholarships to more than 65 young men. In addition to scholarships, participants are engaged in meetings with program staffers and supporters that provide educational and mentoring opportunities in the areas of college preparedness, effective communication, self-awareness and actualization, respect for self and others, social skills, financial management, career planning and etiquette and social graces.
The Foundation strives for its executed vision to have a significant positive impact in our community. Thank you for your continued support!